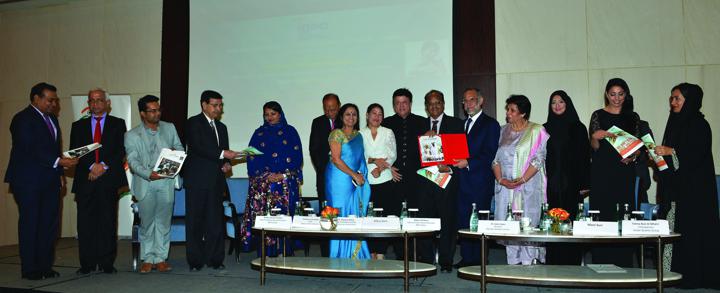 ON FEBRUARY 18, AT THE H HOTEL IN DUBAI, THE INDIAN BUSINESS AND PROFESSIONAL COUNCIL (IBPC) OF DUBAI HELD A PANEL DISCUSSION ENTITLED 'WOMEN EMPOWERMENT — BREAKING BARRIERS AND REDEFINING BOUNDARIES.' The interactive session for board members and their spouses featured women with a broad range of expertise and from many different fields, including business, science, politics, sports and philanthropy.
The panelists included: Shafeena Yusuffali, CEO of Tablez Food Company; Fatma Buti Al Mheiri, Chairwoman of Dubai Quality Group and Director at CDA; H.E. Dr. Maryam Mattar, Founder and Chairwoman at UAE Genetic Diseases Association; Mani Suri, Wife of Indian Ambassador to UAE, Dr. Sana Sajan, Director of the Danube Welfare Centre; Bindu S Chettur, IBPC Administrative Board Member; and, Mary Kom, Olympic Champion Boxer from India. Kom was the chief guest at the event and IBPC Administrative Board Member and former President, Abbas Ali Mirza, moderated the panel.
At the beginning of the session, IBPC Secretary General James Matthew acknowledged the universal respect for women and commitment to empowering women in India and Dubai.
Chettur — the only woman on the IBPC board and the mind behind the IBPC Women's Division — gave the welcome address, celebrating the centuries-old tradition of respect and honor for women in India and noting that "Women are meant to be the pillars of a happy, healthy and steady society."
The panelists shared their personal stories of growth and development, highlighting challenges and opportunities along the way. Participants also spoke about the many roles women play in family and society, society's expectations of women, and the unique strengths of women.
Highlighting the unique strengths of women and summarizing the diversity of talents represented, Yusuffali said it best, "Women are so flexible and fluid which makes them better entrepreneurs and leaders."