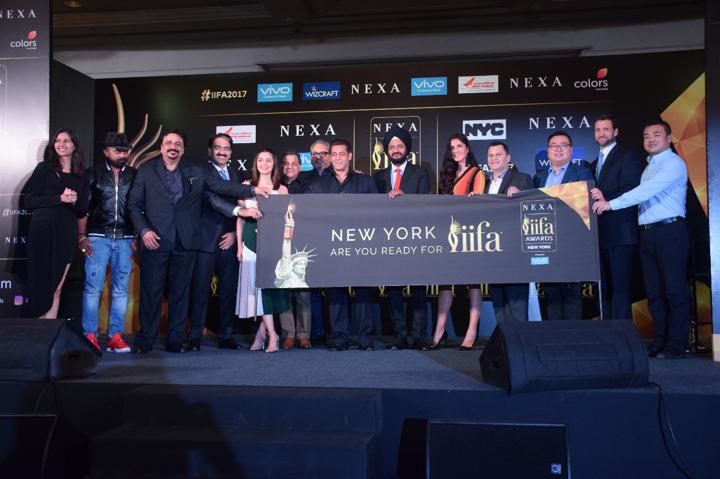 This month, New York will host the 18th annual International Indian Film Academy's awards weekend. The weekend will celebrate Indian cinema and everything that goes with it, from music to business to fashion. The Academy, which plays a leading role in promoting Indian cinematic arts and innovation abroad, celebrates the idea of "One Vision One World!" Past festivals have been held in Macau, Toronto, London, Amsterdam, Johannesburg, Singapore, and, last year, Madrid. Wherever IIFA has held its awards weekend, it has brought Indian cultural achievements to foreign audiences and given Indians abroad a chance to connect with their favorite celebrities and homegrown heroes.
Wizcraft International created and continues to produce the IIFA movement. Director Wiz Viraf Sarkari anticipates that the approaching festivities will be the biggest IIFA event ever. The 2-day event is expected to draw international celebrities, politicians, and dignitaries. It could be the largest exhibit of Indian culture to hit New York since the reception for Prime Minister Narendra Modi in 2014.
Eagerly anticipating this year's event, Ambassador Riva Ganguly Das, Consul General of India in New York said, "This is an extremely timely initiative and will no doubt help in giving further visibility to Bollywood in this lively cultural capital of the world. Bollywood films speak a universal language which everyone across cultures and languages can relate to. I am sure New York will be dazzled by the glamour, sheer beauty, charm, and power of our films and what they stand for."
Highlights of the weekend will include the NEXA IIFA Awards Powered by Vivo and IIFA Rocks 2017. On Friday, July 14, Ritesih Deshmukh and Manish Paul will host the IIFA Rocks 2017 concert, which will celebrate 25 years of A.R. Rahman's music.
Attendees can expect an equally star-studded spectacle from the awards ceremony on Saturday, July 15, which will include performances by Katrina Kaif, Kriti Sanon, Shahid Kapoor, and others. Alia Bhatt will participate at IIFA for the first time since her 2012 Bollywood debut. Salman Khan will also perform, fresh off his Da-Bangg concert tour.
Karan Johar's romantic drama Ae Dil Hai Mushkil has garnered eight nominations in popular categories — the most of any film this year. It is closely followed by M.S. Dhoni: The Untold Story, which has earned seven nominations. Other films with multiple nominations include Udta Punjab and Kapoor & Sons. Ae DIl Hai Mushkil and Kapoor & Sons have already won awards in the technical categories, which the Academy announced last month.
Corporate partners for the festival weekend include Viacom, Maruti Suzuki, and Vivo. Air India is the official airline of the event. The 18th annual IIFA awards weekend promises to be an unforgettable celebration of Indian culture abroad.
Pic:
Photo Courtesy: Wizcraft International