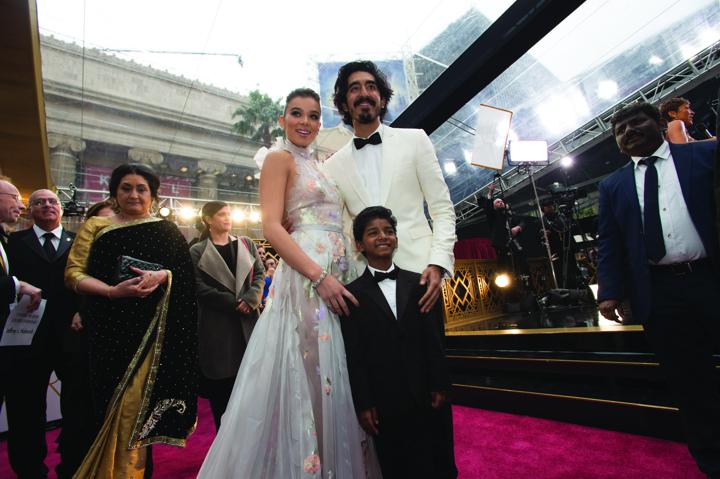 Last month, the Dolby Theater in Hollywood witnessed a gathering of the greatest talents in the industry at the 89th annual Academy Awards. This high profile event and its barrage of
after-parties were not to be missed, and the leading Indian diaspora personalities in American cinema showed up in full force.
The Oscar ceremony itself was limited to members of the Academy of Motion Picture Arts and Sciences, nominees, and their guests. From the Indian diaspora, this included: Dev Patel, Anita Patel and Priyanka Bose. The exclusive Vanity Fair after-party, however, included even more Indian celebs.
Fashion is always a big part of the Oscars, and this year Indian actresses made their presence known through bold and sophisticated style choices. Several of them even promoted Indian designers, including Naeem Khan by Mindy Kaling and Rohit Gandhi +Rahul Khanna by Frieda Pinto.
Lion actress Priyanka Bose "felt like a queen" at this year's award, championing both fashion and environmental issues as an ambassador for Red Carpet Green Dress. The Red Carpet Green Dress campaign seeks to promote sustainable, eco-friendly fashion. In addition to making a strong fashion statement, Bose's dazzling floral gown — a sustainable piece by Vivienne Westwood — made a noticeable social impact.
Bose wasn't the only actress pursuing a social cause. This year, Frieda Pinto attended Elton John's Academy Awards viewing party, which raises money for the Elton John AIDS Foundation. Additionally, she organized her charitable effort by collaborating with the San Francisco-based waste management company Copia to recover leftover food from Oscar parties that would otherwise have gone to waste. Pinto and Copia worked together to donate the food from that evening to those in need through nonprofits like the Los Angeles LGBT Center. In the midst of all this organizing, Pinto still found time to pick out a killer black and gold tuxedo-front dress by Rohit Gandhi + Rahul Khanna for the viewing party, and a blue, one-shouldered Elie Saab gown for the Vanity Fair after-party. Pinto was accompanied to the events by her close friend, the fashion model and former Miss Great Britain, Preeti Desai. Desai wore an elegant black-feathered number to the viewing party and a ruched, one-shouldered gown in a deep blue to the after-party. Together, they made a stunningly coordinated pair.
Deepika Padukone — who came into the Hollywood scene just two months ago after her film debut in "xXx: Return of Xander Cage" — made a bold fashion statement of her own. The asymmetrical black dress she wore to the pre-Oscar party was a smashing hit, and she shimmered at the Vanity Fair after-party in a strapless gown with a black bodice and glittering gold and black skirt.
Priyanka Chopra. The Quantico star, who has been dubbed the "darling of the West" by Indian Express and "the current sensation of the West" by the Times of India, was present in full splendor for her second Oscar appearance. Just as she did last year, Chopra dazzled in white on the red carpet. This year, though, she exchanged her romantic floral designs for a stunning geometrical number that miraculously hugged her curves.
Although she was not at the ceremony this year, Mindy Kaling was still a vivacious presence at the after-party. Former fans of The Office were thrilled to see her with close friend and former on-screen love interest, BJ Novak. Her embroidered floral dress from Naeem Khan's 2017 Spring Collection captured her energy perfectly.
For Indians abroad, the highlight of the evening was undoubtedly the nomination of the film Lion for best picture. Lion tells the true story of Saroo Brierly, a boy from Khandwa, Madhya Pradesh who got lost in Kolkata without any idea of how to find his way back to his family. After being taken in by an orphanage, he was adopted by an Australian couple. Years later, as a young adult, Brierly used Google maps to find his hometown and relocate his biological family. To see Lion honored at such a high-profile awards ceremony was a special treat for the Indian diaspora, so many of whom share a piece of Brierly's story and longing for the homeland.
While the fashion-forward actresses caught our eye and sparked our imaginations, no one stole our hearts like the eight-year-old star of Lion, Sunny Pawar.
Sunny, who comes from a one-room apartment in Kalina, a town just outside Mumbai, traveled close to 10,000 km to Australia to film the movie, Lion. Sunny looked sharp in a tuxedo with green and yellow sneakers. In a spectacular re-enactment of the Lion King that melted the hearts of everyone in attendance, ceremony host Jimmy Kimmel raised the young actor up over his head just as Rafiki raised baby Simba.
Accompanying Sunny to the Oscars was the young actor's father, Dilip Pawar. Mr. Pawar has stood by Sunny's side, literally, throughout his journey to stardom, taking him to his audition for the role, traveling with him to Australia and Kolkata to film, accompanying him on promotional tours, and finally, walking down the red carpet with him at the Dolby Theater. Although Mr. Pawar lost his job in order to travel with Sunny, he has expressed no regrets. In fact, he credits the film with changing Sunny's life, boosting his confidence, and changing his life by helping his son.
Parental plus-ones weren't just for celebrities under 10. This year's Oscar ceremony saw a number of celebrities bring friends and family other than their spouses, celebrities including Sunny's co-star, Dev Patel.
The 26-year-old British-born actor, who was nominated for his role as the older Saroo Brierly, shared the evening with his mother, Anita Patel, of Wembley, London. Dev and his mother exuded elegance and grace on the red carpet. Dev wore a classic white tuxedo that perfectly complemented his mother. Anita Patel looked stunning in a gold-trimmed, rhinestone-studded black sari, reminiscent of the starry night sky.
Absent in body but present in spirit was the late Om Puri. Om Puri made his name in Bollywood and later starred in British and American productions. The celebrated actor, who died at the beginning of January, was honored alongside other film stars and creators who died this past year. Singer Sara Bareilles provided vocals for a moving In Memoriam segment honoring these brilliant performers and creative minds.
From a mother and son on the red carpet to a fashion forward advocate for social justice, this year's NRIs at the Oscars dazzled and inspired us all.
Captions
Academy President Cheryl Boone Isaacs (third from left) with Oscars® nominee, Dev Patel (second from left), posing for a photograph with guests at The 89th Oscars® at the Dolby® Theatre in Hollywood, CA on, Feb. 26, 2017. [Photo: Courtesy of Aaron Poole / ©A.M.P.A.S.]

DEV PATEL AND ANDREW GARFIELD at the 89th Oscars® at the Dolby® Theatre in Hollywood, CA on Feb. 26, 2017. [Photo: Courtesy of Todd Wawrychuk / ©A.M.P.A.S.]

MAHERSHALA ALI who won the Oscar® for best supporting actor for his role in Moonlight greets Dev Patel at the Oscar Nominee Luncheon held at the Beverly Hilton in Los Angeles prior to the award ceremony on Feb. 6, 2017. [Photo: Courtesy of Todd Wawrychuk / ©A.M.P.A.S.]

NICOLE KIDMAN AND DEV PATEL at the Oscar® Nominees Luncheon in Beverly Hills Hilton in Los Angeles, February 6, 2017. [Photo: Courtesy of Phil McCarten / ©A.M.P.A.S.]

Priyanka Bose arrive on the red carpet of The 89th Oscars® at the Dolby® Theatre in Hollywood, CA on Feb. 26, 2017. [Photo: Courtesy of John Salangsang / ©A.M.P.A.S.]

Lion actress Priyanka Bose "felt like a queen" at this year's award, championing both fashion and environmental issues as an ambassador for Red Carpet Green Dress. In addition to making a strong fashion statement, Bose's dazzling floral gown — a sustainable piece by Vivienne Westwood — made a noticeable social impact. [Photo: Courtesy of Michael Yada / ©A.M.P.A.S.]

Frieda Pinto attended Elton John's Academy Awards viewing party, which raises money for the Elton John AIDS Foundation. Additionally, she organized her charitable effort by collaborating with the San Francisco-based waste management company Copia to recover leftover food from Oscar parties to donate it to those in need. 

In the midst of all this organizing, Pinto still found time to pick out a killer black and gold tuxedo-front dress by Rohit Gandhi + Rahul Khanna for the viewing party, and a blue, one-shouldered Elie Saab gown for the Vanity Fair after-party.

PRIYANKA CHOPRA on the red carpet at the Dolby® Theatre in Hollywood, CA on Feb. 26, 2017. [Photo: Courtesy of Michael Yada / ©A.M.P.A.S.]

MINDY KALING at the Vanity Fair Oscar Party 2017 on Feb. 26, 2017 in Beverly Hills, Calif. [Photo: Courtesy of Mpi99/Media Punch/Alamy Live News]

FREIDA PINTO AND PREETI DESAI at the Vanity Fair Oscar Party on Feb. 26, 2017,in Beverly Hills, Calif. [Photo: Courtesy of Evan Agostini/Invision/AP]

DEEPIKA PADUKONE at the 2017 Vanity Fair Oscar Party hosted by Graydon Carter at Wallis Annenberg Center for the Performing Arts on February 26, 2017 in Beverly Hills, Calif. [Photo: Courtesy of Verwendung weltweit/dpa picture alliance/Alamy Live News]

Sunny Pawar and Oscar® nominee Dev Patel poses with Hailee Steinfed as Sunny's father Dilip Pawar watches on the red carpet of The 89th Oscars® at the Dolby® Theatre in Hollywood, Calif. on Feb. 26, 2017. [Photo: Courtesy of Matt Petit / ©A.M.P.A.S.]