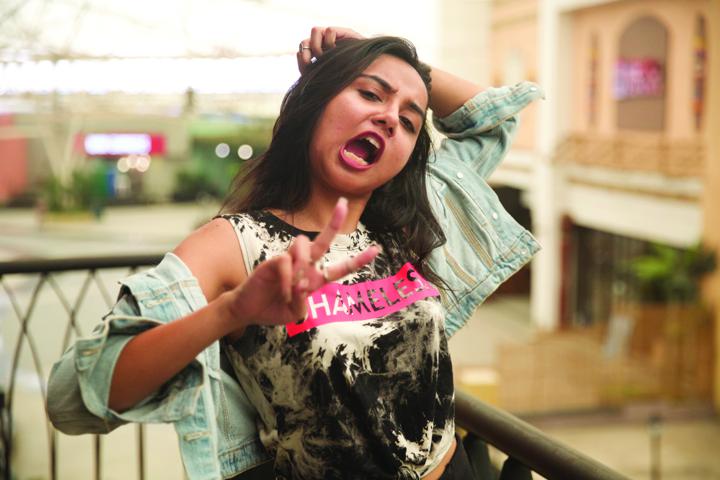 A month ago, Prajakta Koli, one of India's most popular individual YouTube creators, released a new music video called Shameless. It has already gotten over a half a million views.
The music video features various artists including Raftaar, Gaurav Gera, Mithila Palkar, Sahil Khattar, RJ Malishka, and Raghav Juya. They all pledge to be part of Koli's campaign against body shaming, #iPledgeToBeMe.
Koli is passionate about the topic and has made various videos speaking about it. In her song, she confronts many prejudices to which impressionable young teenagers are subjected. These range from comments on their weight to name calling about their looks. The song discusses the issues people think they can't find a soul mate because of their flaws. As the song's title says, Prajakta Koli believes people should feel shameless about their flaws, embracing yourself warts and all.
Koli has a formidable social media reputation. She has 159,000 YouTube subscribers, 109,500 likes on Facebook, 7,700 followers on Twitter, and 69,600 followers on Instagram. Her observations of everyday life are both comical and serious. She connects with the Indian youth uniquely. Her 'How To' and 'Types of' video series act as a mirror to urban India life.
She recently held a meet-and-greet in Mumbai after receiving numerous requests to participate in various college cultural festivals. Last year she was part of the YouTube FanFest, and she has hosted several important events such as xXx: The Return of Xander Cage and the Mirchi Music Awards red carpet event.
Koli started the #iPledgeToBeMe initiative when she realized what a big issue body shaming has become in teenage lives. Nowadays there is immense pressure on teenagers to look a certain way to be accepted by their peers. Often teens end up creating a version of themselves that is not who they truly are.
In one of her #RealTalkTuesday videos, she openly spoke about her insecurities and shortcomings. She shared how she overcame them and became content with her real self. She asked her viewers, whom she fondly calls her lovers, to share their own stories with her. The response to the video was overwhelming. She received more than 2,500 emails, and thousands of messages were shared across her social media platforms. People told her about their own body shaming struggles and thanked her for sharing her personal story, saying that it made them feel better about their issues.
She followed up with another video and discussed all the stories she received, thanking people for sharing with her. She used the sign language sign for shameless and told her fans to send in their videos doing the same. Again the response to her video has been immense; she has already received hundreds of videos of people doing the s hameless sign from all across the country.