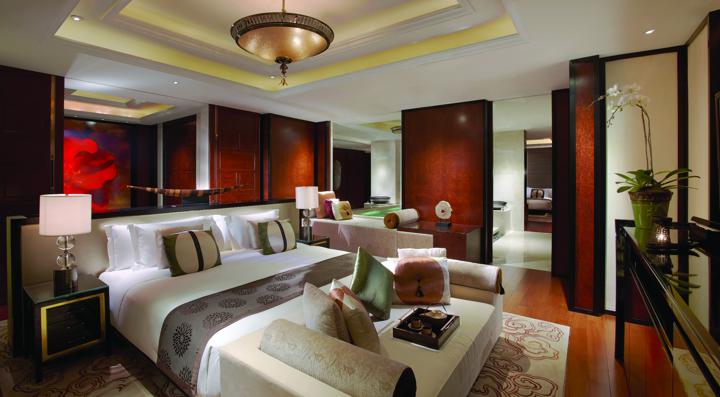 If you're engaged and you want to know where to cram your big, fat, Indian wedding, you might consider Banyan Tree Hotel in Macau. This is the ideal hotel to host your wedding, reception or any other kind of special event. That is, it's ideal presuming you have the requisite, disposable income to spend to make your special day the best of the best. The hotel is lavish and well equipped to handle large events for any special occasion, but arguably the best reason to choose Banyan Tree Macau as your wedding destination is the hotel's presidential suite, which registers at approximately $11,341 USD per night.
Many guests at the Banyan Tree Hotel in Macau tend to come from Australia.
The room is worth its weight in gold with its dazzling décor and posh amenities. The suite occupies both the 30th and 31st floors of the tower, and its living room is flanked by the avant-garde, marble columns. This split-level, hotel castle also offers incredible views of the Cotai Strip and landscape.
Chhada Siembieda designed the suite with dual bedrooms, formal living and dining rooms, a post-modern kitchen. It also comes with its own private pool and a spa treatment room.
The general manager of Banyan Tree Macau, Fabrice Collot, speaks of the resort as the pinnacle of luxury. "At Banyan Tree Macau, we can help plan your dream getaway with our extensive range of tailor-made guest services," Collot said. "We take care of details, so you get to enjoy real quality time with the people you love."
If you're planning a wedding, you probably want to secure the presidential suite for yourself, but another good reason to choose the Banyan Tree Macau is to take advantage of their catering packages. One of their two newest packages is the Lavish Presidential Suite Package, and the other is the Ultimate Bridal Shower Package. They prove they can truly cater for any occasion with these new options. The Ultimate Bridal Shower let's the bride-to-be fully indulge in the suite's opulence with her closest friends, a two-hour flow of free soft drinks, chilled juices, and house wines, plus complimentary breakfast for up to four people, a canapé menu for 20 people, five bottles of Champagne, and a banquet host on task for the entirety of the party.
The Lavish Presidential Suite Package offers guests some incredibly highly rated services such as a scenic, round-trip ride to Hong Kong and back via helicopter, daily room service for breakfast, afternoon tea set at Belon, unlimited in-room spa treatments, destination dining at the Cabana Pool Deck, complimentary mini bar, and, of course, a welcome gift.
Banyan Tree Macau will also treat you with VIP tickets to the House of Dancing Water. Round-trip transfer can be taken at any time in a Rolls-Royce to reach the hotel ferry terminal or return from it. The same transfer can be used to reach the House of Dancing Water.