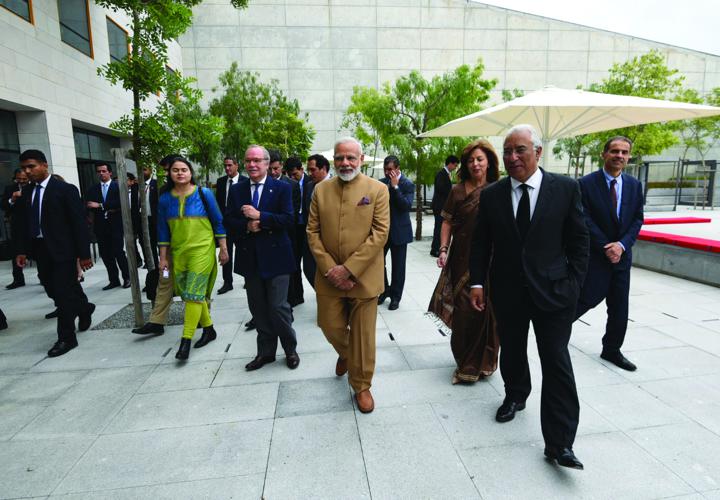 In recent weeks, India's Prime Minister, Narendra Modi, has traveled to the United States, Spain, Portugal, the Netherlands, Germany, and elsewhere. The state visit to Portugal, however, was unique in two ways. Firstly, this was the first bilateral visit to Portugal by a Prime Minister of India. Secondly, Prime Minister Modi awarded Portugal's Prime Minister, António Costa, a person of Indian origin, an Overseas Citizenship of India (OCI) card.
Costa was happy to receive Prime Minister Modi, tweeting, "It is an honor and a source of pride to receive Narendra Modi, the first time an India Prime Minister visits."
During the visit, Modi described his Portuguese counterpart as the best of the Indian diaspora across the world, specifically referring to Costa's Indian origin. Costa became Portugal's prime minister in 2015. As noted by Modi in his news release, the presence of Portuguese citizens of Indian origin is crucial to deepening the relations between India and Portugal.
Modi presented Costa with the OCI card during a community reception. During Costa's recent visit to India, the President of India, Pranab Mukherjee, awarded Costa the Pravasi Bhartiya Samman. The Pravasi Bhartiya Samman is an award by the Indian president in honor of exceptional contribution to the society by the Indian diaspora.
The presentation of the OCI shows the burgeoning level of cohesion between India and Portugal. According to Ministry of External Affairs of India, 65,000 people in Portugal are of Indian origin. With the OCI scheme established in 2005, these citizens can apply for an overseas citizenship.
Also during the visit, the two countries signed eleven bilateral agreements. They announced a 4 million euro fund that will bolster the development of technology and scientific research.
After detailed delegation-level discussions, the two nations agreed to work in unison on matters such as counterterrorism, climate studies, cultural cooperation, space alliance, sports, trade and investment, biotechnology and more.
CAPTION
Prime Minister Narendra Modi at the Champalimaud Foundation, designed by noted Indian architect
Charles Correa in Lisbon, Portugal on June 24, 2017.
The Prime Minister of Portugal, Antonio Costa, is also seen. (PIB Photo)