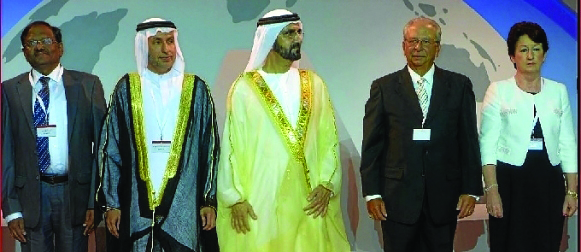 BUSINESS LEADER PC NAMBIAR IS PROMOTING INDIA'S FREE ECONOMIC ZONES AT LEADING EDGE FREE ZONE FORUMS AROUND THE WORLD.
As Director of Group EXIM, Poonawalla Investments& Industries, Nambiar helped establish India's first special economic zone for the biopharma industry. In 2014, Nambiar and 13 other international business leaders formed the nonprofit World Free Zone Organization (WFZO) to improve and promote free economic zones across the globe.
Free economic zones, or free zones, are specially assigned areas of a country where companies can import, remanufacture, and re-export materials without paying the usual customs fees. As such, free zones encourage trade and investment in the host territory. The WFZO currently has four major projects: The Executive Education Program, the Free Zone of the Future Initiative, The Free Zone Outlook Report, and the Executive Education Program.
As the Secretary for WFZO and Representative of the Asian region, Nambiar collaborates with business titans from around the world to identify best practices for free zones, advise on the creation of new zones, disseminate accurate information about zones, and provide a forum for discussion among free zone supporters. He and the other Board Members of WFZO address free zones of all sizes — from regional, to national, to sub-national. Nambiar's unanimous election to the position of secretary evinces his business acumen and reputation as a leading mind in the world of exports and foreign trade.
Learning best practices for free zones obviously has direct benefits for India, but Nambiar's role in the organization has an added benefit: it increases the visibility of Indians at the vanguard of international economic development.
Nambiar has received numerous awards for his work as an exporter, including the 'Best Manufacturer Exporter (Large)' for the year 2015; the 'Most Innovative Exporter' for the year 2012 from Export Credit Guarantee Corporation (ECGC); and, 'Maha-entrepreneur Award' in 2011. He has also been recognized as having the highest exports in the private sector from Special Economic Zones (SEZ) every year from 2008 to 2010. He shares his knowledge with the next generation of business leaders by lecturing on India's economic policies, foreign trade regulations, and logistics management at several management institutes. Nambiar is also the former chairman of the Indian government's Export Promotion Council for Export Oriented Units and Special Economic Zones (EPCES).
The next meeting of WFZO will be held in Colombia, from May 3-5, 2017.
CAPTION
Photo: His Highness Sheikh Mohammed bin Rashid Al Maktoum Vice-President and Prime Minister of the UAE and Ruler of Dubai (center) with Mr. Nambiar (left) and other officials at the launch of the World Free Zones Organization (WFZO) in Dubai on 19 May 2014.