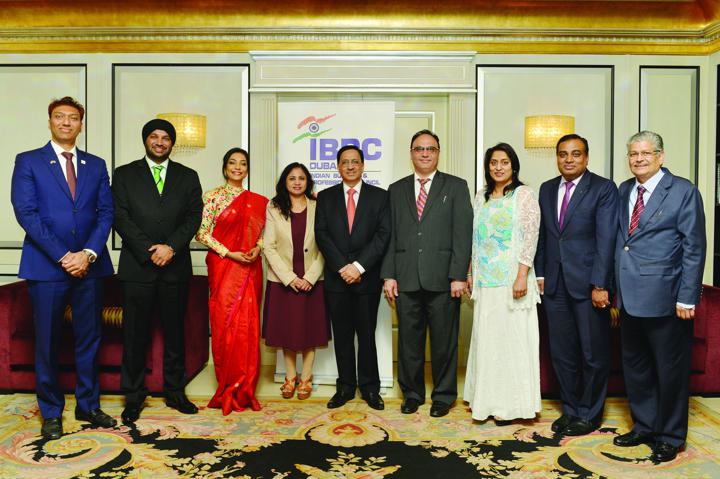 On March 27, the professional Indian women of Dubai and the Indian Business and Professional Council (IBPC) achieved two significant milestones. Ms. Bindu Suresh Chettur and Ms. Smita Prabhakar made history by becoming IBPC's first female President and Secretary-general, respectively. Additionally, in only one election the board went from having only one female member —
Ms. Chettur — to having three, including Ms. Prabhakar and Ms. Monika Agarwal.
Time and again, Ms. Chettur, a senior lawyer with Mohammed Salman Advocates and Legal Consultants, has shown her commitment to strengthening the Indian community in the United Arab Emirates. Outside of her practice, she provides free legal advice to Indians in the UAE. As a board member of IBPC, Ms. Chettur made significant contributions to the organization and to the local community of female entrepreneurs, even before becoming president. These contributions include leading a panel on women breaking barriers in the workplace and organizing IBPC's Women's Committee. Under her leadership, we can undoubtedly expect more gains for female entrepreneurs.
Ms. Chettur shows no sign of stopping in her efforts to strengthen the UAE's Indian community. As President, she hopes to "lift the stature of IBPC to a global level for Indian businesses to prosper," according to a postelection interview. In the same interview, she revealed a deep commitment to fostering stronger ties between India and UAE. "I shall strive to strengthen bilateral relations between India and UAE through cultural, economic, social and commercial fraternization," she said. "Together, we can and will create history." In this way, Ms. Chettur exemplifies the ideals of the Indian diaspora.
The newly elected Secretary-general, Ms. Prabhakar, will be no less influential on the new board. Ms. Prabhakar is only the second woman ever to sit on IBPC's board in the organization's 14-year history — the first being Ms. Chettur. According to a news release by IBPC, Ms. Prabhakar is "an accomplished media professional and the Managing Director of an award-winning integrated advertising agency, Client Advertising." That the second female Board Member at IBPC would become Secretary-general testifies to the great strides India's women entrepreneurs have made in the United Arab Emirates.
There has never been a better time for this development. Relations between India and UAE are stronger than ever, and the countries are coming together rapidly. Just this past January, His Highness Sheikh Mohamed bin Zayed Al Nahyan, Crown Prince of Abu Dhabi and Deputy Supreme Commander of the UAE Armed Forces, visited India as the chief guest at the 68th Republic Day celebrations. He was the first Emirati leader ever to receive such an invitation. With bilateral relations and cooperation growing stronger, there are more avenues than ever before for global expansion of enterprises.
Less than two weeks after the elections, UAE's Minister of Culture and Knowledge Development, Sheikh Nahyan bin Mubarak Al Nahyan, affirmed the special connection between UAE and India at the launch of an event organized jointly with IBPC celebrating the UAE-India connection under the theme 'Pioneering Cultural Cooperation for a Bright Future.'
At that event, he said: "With the launch of this celebration, we support all efforts to build strong and continuous ties between the Emirati and Indian communities, while honoring their cultural diversity."
Seven other individuals with diverse backgrounds were elected to the nine-member administrative board. Voters elected Mr. Hemant Jethwani, Managing Director & CEO at FinAdvise Consultants to the position of Vice President, while Mr. Janak Panjuani, Director of Puthran Chartered Accountants, was elected Treasurer. Joining them on the new board are Mr. G.R. Mehta of Kaane American International Tobacco Co.; Mr. James Mathew, Group CEO of Crowe Horwath, UAE & Oman; Mr. Kulwant Singh, CEO of Lama Tours; and, Mr. Nimish Makvana of Crowe and Horwath, who is also immediate past Chairman of the Institute of Chartered Accountants of India. Finally, Ms. Monika Agarwal, CEO & Director of ARTIN (Artistic Interiors LLC), is the ninth member and third woman to ever serve on the board.
CAPTIONS
PRESIDENT

MS. BINDU SURESH CHETTUR

Senior Advocate, Mohamed Salman Advocates and

Legal Consultants, Dubai, UAE

SECRETARY GENERAL
MS. SMITA PRABHAKAR
Managing Director, Client Advertising
Dubai, UAE
BOARD MEMBER
MS. MONIKA AGARWAL
CEO & Director of ARTIN (Artistic Interiors LLC)
Dubai, UAE
INDIAN WOMEN BREAKING BARRIERS IN UAE