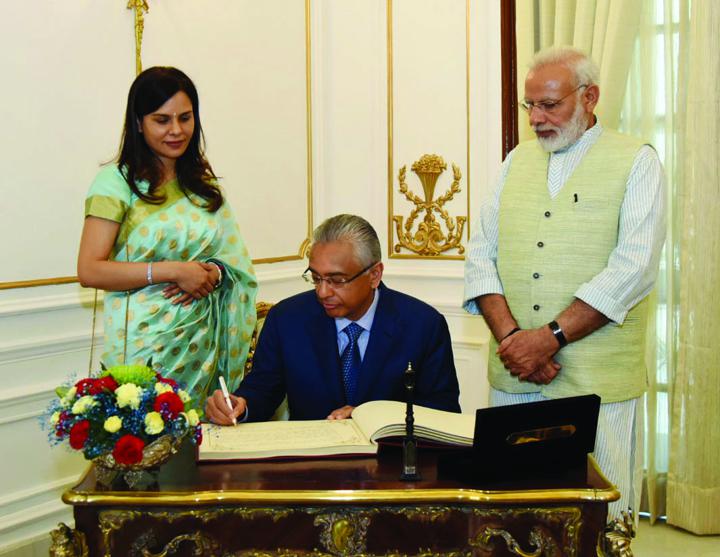 Over 68 percent of Mauritians are of Indian origin, so the relationship between India and Mauritius has always been close. Prime Minister Pravind Jugnauth of Mauritius, who took office earlier this year and is of Indian origin himself, recently visited India. It was his first trip abroad as prime minister and was made monumental by the bilateral agreements signed between India and Mauritius.
Indian Prime Minister Narendra Modi said of Jugnauth's visit in a press statement, "Our bonds extend to people and societies who take pride in our shared roots." Jugnauth also spoke of the strong bilateral relations between the two countries during his visit. "Both Mauritius and India agree that there can be no compromise when it comes to sovereignty and territorial integrity," Pravind Jugnauth said, as reported by ANI (Asian News International).
After delegation-level talks between the Mauritius Prime Minister and the Indian Prime Minister, both parties signed five agreements set to benefit both Mauritius and India. For starters, the government of India agreed to help establish a Civil Services College in Mauritius. The two leaders also signed an agreement regarding Maritime Security. The agreement ensures the safety of the Indian Ocean. Both India and Mauritius utilize the economic opportunities provided by the Indian Ocean. Both countries agreed to efficiently manage threats including piracy, illegal fishing, drug trafficking, human trafficking, and any form of misuse of marine resources.
On the matter of maritime security, the Indian Government also agreed to aid Mauritius in strengthening its Coast Guard through Project Trident. Both the countries are dedicated to ensuring a peaceful and secure maritime domain. According to ANI, the Indian Prime Minister said, "Prime Minister Jugnauth and I agree that it is our responsibility to ensure collective maritime security around our coasts and in our EEZs."
Another agreement signed was the Memorandum of Understanding between the Council of Scientific and Industrial Research of India (CSIR) and the Mauritius Oceanography Institute (MOI). This agreement will ensure research in marine sciences and technology. According to a News Release by the Government of Mauritius, the Memorandum of Understanding will allow both countries to exchange scientists and scholars for training, research, and consultation.
Additionally, the Prime Minister Modi congratulated Mauritius for completing its instrument of ratification of the International Solar Alliance Framework Agreement. Modi and the then French President Francois Hollande launched the ISA (International Solar Alliance) initiative on November 30, 2015, during the United Nations Climate Change Conference held in Paris. The ISA initiative was started with the aim of uniting countries with an abundance of solar resources with the objective of addressing energy needs. This initiative provided a platform where sunshine countries can discuss approaches required to close the gap between energy needs and energy production through the harvesting of solar energy.
The Dollar Line of Credit agreement between SBM Mauritius Infrastructure Development Co. Ltd and Export-Import Bank of India was another talking point of the visit. This agreement made headlines across the world. The Line of Credit agreement will strengthen bilateral relations including trade between India and Mauritius.
CAPTION
The Prime Minister of the Republic of Mauritius, the Honourable Pravind Kumar Jugnauth, signing the visitors' book on his arrival at Hyderabad House in New Delhi on May 27, 2017. (PIB Photo)