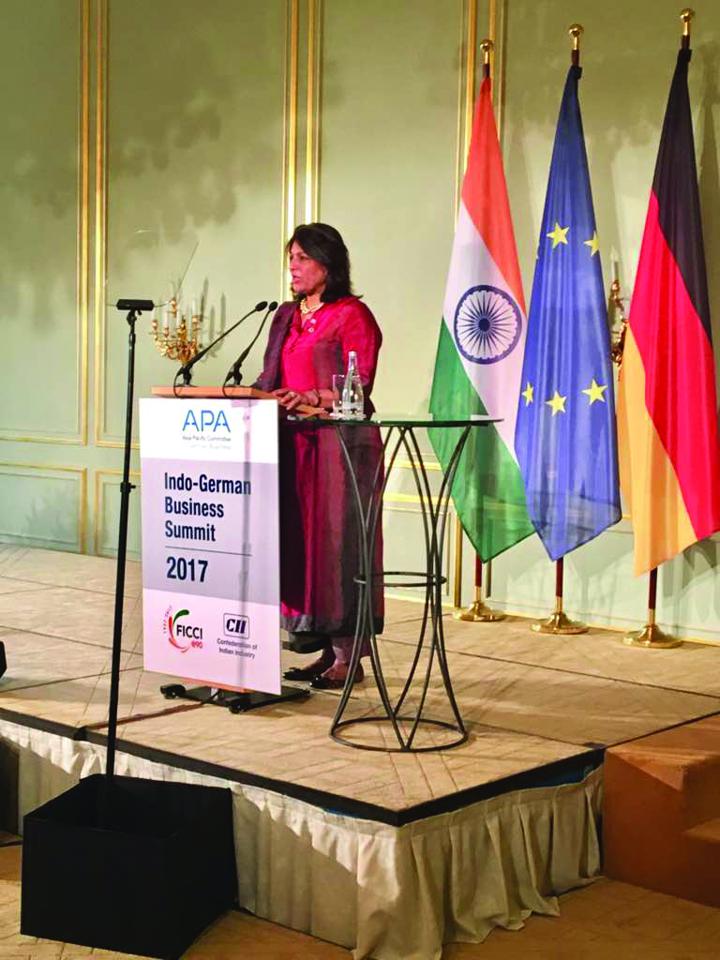 Shobana Kamineni, the Executive Vice-Chairperson of Apollo Hospitals Enterprise Limited and President of The Confederation of Indian Industry (CII), led a CEOs' Delegation at the 2017 Indo-German Business Summit in Berlin, Germany. The CEOs sat alongside Prime Minster Narendra Modi and German Chancellor Angela Merkel at the luncheon. Representatives at the meeting spoke about current business interests with Germany and shed light on their concerns for future relations.
The summit was organized by the Confederation of Indian Industry (CII), the Federation of Indian Chambers of Commerce and Industry (FICCI), and the Asia-Pacific Committee of German Business (APA).
CEOs, advisers, and the two global leaders expressed their ideas for the future of business relations between the two nations.
Modi and Merkel were in agreement that more can be done to create prosperous channels for bilateral economic cooperation.
Modi drew attention to the massive potential of investments, commerce, and industry that remains untouched in the relationship between Germany and India.
Germany currently ranks 7th among foreign investor countries in India. With upward of 200,000 people currently employed by 600 Indo-German joint ventures in India, there are clearly more avenues for enterprise and industry.
CII President, Shobana Kamineni complimented Modi for his consecutive years of reform that caused a substantial boost in confidence from potential investors.
Though these words were promising, Merkel raised concern about the current state of the Free Trade Agreement between India and the European Union. She went on to press Modi for closure so that the nations could move forward with future business endeavors.
Merkel reiterated that India's best interest would not be forgotten in negotiations for the deal.
"The negotiations have been tough because every country must safeguard its interests and Germany will ensure that India's concerns are also put on the table," she added.
As one of India's most vital trading partners, Germany wants to remain a reliable source for growth, at home and overseas.
Apart from the central theme of trade and commerce, the summit also covered Afghanistan, international maritime rights, matters of terrorism, and missile technology.
After the summit, it is more apparent than ever that German investments in India are expected to grow.