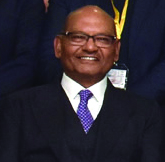 INDIAN BILLIONAIRE ANIL AGARWAL MADE HEADLINES RECENTLY AFTER A MASSIVE ACQUISITION MADE HIM THE SECOND LARGEST SHAREHOLDER OF ANGLO AMERICAN PLC. ANGLO AMERICAN IS A BRITISH MINING MOGUL AMONG THE TOP FIVE MINING CORPORATIONS IN THE WORLD. GLENCORE PLC., RIO TINTO PLC., VALE SA, BHP BILLITON PLC. AND ANGLO AMERICAN PLC. COLLECTIVELY HAVE ASCENDENCY OVER THE GLOBAL MINING INDUSTRY AND ITS RESPECTIVE MARKETS, AND EACH OF THEM IS CONSIDERED A TITAN.
In 2016, Anil Agarwal made overtures to the tune of a merger between Anglo American and Vedanta Resources. Vedanta Resources is a diversified, global metals and mining company headquartered in London. It represents a massive pull on the mining industry from outside the circle of the five aforementioned companies. Vedanta Resources is India's largest mining company, and it executes mining operations across Australia and Zambia as well. It is primarily by way of Vedanta Resources that Anil Agarwal is considered a metal and mining magnate.
Agarwal's holdings are quite diversified, so even though he has been seen as a major competitor in the global mining sector, Vedanta Resources has never been considered parallel to Anglo American's tier of market hegemony in mining. In lieu of this, Agarwal controls Vedanta Resources through Volcan Holdings, which he owns via the Agarwal family trust.
Agarwal has structured his investments this way, of course, because he is invested in more than just mining. The first acquisition in his portfolio history allowed him to establish Sterlite Industries, which struggled with profitability making jelly-filled cables due to fluctuations in the value of copper and aluminum. He subsequently began to diversify by manufacturing metals to control his input costs. He's been a savvy investor since the 1970s, and over the course of four decades, he has pieced his financial empire together.
Volcan Investments Ltd. is based in London lists on the London Stock Exchange. Volcan pursued a merger with Anglo American in 2016, but ultimately, Anglo American was rebuffed. The merger would not only have benefitted both companies but would have potentially represented a unique, economic opportunity for India. Mere months later, New Delhi looks at new legislation beginning in late March of 2017. This legislation is aimed at customizing mining leases based on how much risk investors assume on certain minerals.
Now amid further talks about customizable mining leases in India, Agarwal shows some of the bullish investment strategies that Volcan Holdings is willing to employ. With the diversity of his investment portfolio, Agarwal uses a level of capital that places the infamous Anglo American in an awkward position after spurning the dark horse's initial, cooperative advancements. In mid-March, just before the efforts toward a new method of auctioning mining leases on the part of India's central government began, Agarwal announced plans for Volcan Holdings to invest capital from his own personal trust into the purchase of around 13 percent of Anglo American shares.
Agarwal's announcement made waves through the media as well as through the markets. This month, Agarwal officially acquired an 11.44 percent stake in Anglo American, which firmly establishes him as the corporation's second largest investor behind only South Africa's Public Investment Corporation, who owns over 13 percent.
Agarwal has already proclaimed bullish capital expenditure strategies in the near future and has little to no plans to involve himself with the Anglo American board. The structure of the deal he made with Anglo American leads pundits to think he plans to break up the company to some extent. It has already been revealed that Agarwal plans to convince Anglo American to establish several businesses in India, ranging from diamond mining to the production of fertilizer.
"We will invest $10 billion over the next three years," Agarwal said. "Around 80% of these investments will be made in India."